Marjorie Bjork Obituary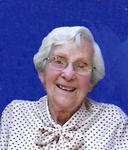 August 6, 1921
-
January 7, 2017
Resided in

Marinette

,

WI
Obituary
Marjorie Bjork, née Ruoss, was born on August 6, 1921, in Michael Reese Hospital, Chicago, IL. Her parents were Leon and Lena Ruoss, whom resided in Park Ridge, Illinois.
Marj grew up during the Depression years, which made quite an impact on her adult life. She was fortunate to receive a full scholarship at Chicago's Michael Reese Hospital, where she had been born twenty years before. Marj's nurses training began in September of 1941. Within months was the beginning of World War II, which affected her life's work dramatically. Upon the end of her senior year of training, Marj enlisted in the U.S. Public Health Service, a branch of the U.S. Army, where one month after taking her board exams she was shipped to North Africa. Her first assignment as a nurse was to care for displaced persons rescued from the concentration camps, a fallout of World War II. In her own words, Marjorie "came to know and enjoy many people, who had survived the Holocaust or other persecution." One of her fondest memories from her time abroad is of a rabbi supervisor who counseled on making the best of things with a Yiddish accent, "Vee must devise vays mit means."
The G.I. Bill enabled Marj to further her education. She attended the University of Michigan, School of Public Heath Nursing, where she received a Bachelor of Science degree in 1949. Afterwards, she took a job with the State of Colorado as Garfield County's only Public Health Nurse. She was instrumental in raising funds for the Valley View Hospital of Glenwood Springs, Colorado, a major highlight in her life.
In 1963, Marjorie married Walter E. Bjork, the one true love of her life. She retired from nursing and pursued her new found adventure with "Bud" in Marinette, WI. She survived her husband's sudden death in 1974, but Walter (familiarly Bud, whom she also called "Buzzie") always remained the beacon of her life.
Her life's interests were varied, from gardening, home design, wild flower photography and the wonders of nature. She hunted rare orchids in the woods and for many years belonged to the Chappee Rapids Audubon Society, fighting against mining expansion in the area to preserve the natural environment. Also a member of the quilting and charity group, E-Z Does It, she was also very civic minded and remained in the political scene, until Alzheimer's claimed her marvelous mind.
She became a loving helpmate to the Darcy family in Marinette. She later befriended her loving friends, Carla and Joe Wagner, Katie and Jamie Benson, and their children Henry, Amelia and Livia. There were many people who entered her life throughout the years, and integrated her into their family's lives and activities. She is survived by many nieces, nephews and grandchildren, who live throughout the United States. Marjorie's family consisted of a sister, Helen, and brother, Jack, who passed away when they were well into their 90's.
As anyone who knew Marjorie, you'll recognize the following words from her:
In spite of Walter's (Bud's) death in 1974, life in general had been very good to me. As a woman it has been and to the end will remain a glorious adventure. Sometimes I chuckle about woman's lib, because if I wanted to do something, I just did it!
So true to her words, Marj's final adventure started on Saturday morning, when her body was donated to science at the University of Madison. She always felt it was her duty to make a difference in this world; let it be said, "Marj, we know you were here."
A special thank you is extended to all the staff at Washington Square for honoring Marjorie's dignity of life in her final years and hours. She remained a spirited soul and fought to her dying breath at age 95. A natural teacher throughout her life, until the very end she was teaching the nursing staff at Washington Square, and her friends, the meaning of patience and patients.
A gathering of friends will be held at the Hansen-Onion-Martell funeral home in Marinette on Thursday, January 12, 2017, from 4 until 6 p.m. At 6:00 p.m. Pastor John Nelson will officiate at a memorial service. Burial will be beside her beloved Walter "Buzzy", in Forest Home Cemetery in Marinette, Wisconsin, at a later date.
In lieu of flowers, donations to Chappee Rapids Audubon Society would have pleased Marjorie.
Services
Visitation
Hansen-Onion-Martell Funeral Home
610 Marinette Ave.
Marinette
,
WI
54143
Service
Hansen-Onion-Martell Funeral Home
610 Marinette Ave.
Marinette
,
WI
54143