Diane Kielcheski Obituary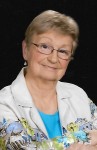 Diane
Katherine
Kielcheski
September 8, 1939
-
March 30, 2020
Born in Escanaba, Michigan
Resided in

Marinette

,

Wisconsin
Obituary
Diane Kielcheski, 80, of Marinette, passed away unexpectedly at her home on Monday, March 30, 2020.
If you're reading this, then I guess I'm gone; but it's totally OK. I've been ready for quite some time now, and my soul is resting happily in the Lord. Besides, I had a good life with many blessings, so I trust that everyone is not feeling sad at all, but rather feeling happy for me!
I was born in Escanaba, MI, in September of '39; left very wisely at the hospital by my birth mother, Velma Trudell, under extenuating circumstances, and adopted 3 weeks later by Walter and Emma Nelson. WW2 was raging, but I was blissfully unaware.
I graduated from Escanaba High School in 1957 with honors, and went on to college at UW-Milwaukee, WI. So, from the age of 17 on I became a tried-and-true Wisconsinite! I dabbled in art classes, but ended up being an elementary teacher, teaching kindergarten for 8 years in the Muskego-Norway School District just west of Milwaukee, and marrying Jim Kielcheski in December of 1964.
We moved to Marinette, WI, in '69, and here I stayed, never leaving my humble "starter" home until June of 2019. I taught school for 27 years up here: kindergarten, 1st grade and 4th grade, at Roosevelt Elementary School, in Menominee, MI, retiring early at 59 in 1999. Meanwhile we were blessed with our two children, Amy Jo (Mike) Del Genio, and David (Charlotte) Kielcheski in '71 and '74. We had 5 amazing grandchildren: Katrina, Mia, and Michael Del Genio, and Dylan (Erica) and Caitlin Kielcheski, all of whom brought us great joy.
I loved retirement and time flew! Over the years I did some watercolor painting, but only for others; never for myself. Art was an inborn talent that I mostly ignored.
Did I accomplish anything useful in my life? Well, I was commissioned in 1977 by Rev. Dennis Perryman of Faith Lutheran Church in Marinette to design and build the cross that hangs over the altar there to this day. With the expert carpentry help of good friend Charlie Buchman, without whom I couldn't have managed such a huge undertaking, I accomplished what was to be my "magnum opus". The cross is still there and serves as my memorial.
As to community outreach, I was fairly active for a while in Habitat for Humanity, publishing a newsletter for the Habitat Church Committee, "Letters to Liaisons", and also in my church, Faith Lutheran, Marinette, publishing the church newsletter, "Reflections of Faith" for 3 years. Writing has always been something that I loved to do. But I was never much of a "joiner", because I seriously disliked meetings!
I did enjoy being a part of the River Cities Readers, a small group of quiet "entertainers" in the Tri-City area who read aloud to various groups and school kids; but most of all I loved writing, reading, walking, raising and enjoying our various pets, doing things with my family and most amazing friends --the best in the world; going on Westlund and NLRC bus tours, working out at Curves, Anytime Fitness, and Iron House, and being connected through Face Book with my far-reaching adoptive and birth family members, old friends, classmates, and even former students, across the miles. And I loved attending Packer games, one-per-season -- first with my daughter, and then with my wonderful daughter-in-law, thanks to the kindness of my brother-in-law, Joe Edelman, who shared his season tickets with me for too many years to count.
I was preceded in death by my adoptive parents, Walter and Emma Nelson, and by my birth parents, Clarence "Smoky" and Velma Trudell; by 4 sisters, Zerelda Nantelle, Loretta Auw, Marietta



"Rita" Ford, and Margaret Groeneveld; and by 2 brothers, Ted and Lyle Trudell, as well as by my former husband, Jim Kielcheski and a brother-in-law, John Kielcheski. Surviving family, besides my children and grandchildren mentioned above, is 1 sister, Izetta Johnson, and 3 brothers, Clarence "Buzz" Trudell, Peter Trudell, and Robert Trudell; as well as many wonderful in-laws, nieces and nephews and my furry friend, Buddy. Thank you to those of you who live on and are part of my two wonderful families, and my many dear friends. You know who you are and how special you were to me: You made my life worth living!
And, as per my wishes, there will be no funeral service. I will simply be interred, with Jim Kielcheski, in Forest Home Mausoleum, Marinette. Please just remember me as doing something special with you or for you, sharing time with you, listening, laughing together, and just being alive.
See you in heaven!
Diane Katherine Nelson Kielcheski

Hansen-Onion-Martell funeral home is assisting the family.