Bruce Lindberg Obituary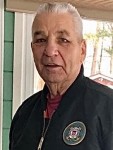 February 22, 1937
-
May 13, 2020
Born in Peshtigo, Wisconsin
Resided in

Marinette

,

Wisconsin
Obituary
Bruce Clark Lindberg, 83, of Marinette, WI, passed away peacefully in the early hours of Wednesday May 13, 2020 with his family near at hand. Bruce was the baby of his family, born to parents, Hazel and Harold Lindberg, on February 22, 1937. He grew up in Peshtigo, WI and over the years became quite well known for his mischievous behavior which later became the basis of his amazing stories and legendary status with his family and friends.
One such story that has grown better every time we tell it, is the time Bruce, his older brother Pudge and his cousin Gary, all hopped on a boat to Horseshoe Bay in Door County to go cherry picking (.40 cents a pail) for a couple of weeks. Mind you, Bruce was only around 12 years old! Bruce and Gary decided to continue their adventure, hitchhiking all the way to Milwaukee to attend the State Fair. They slept in the cow barns and when Bruce finally returned several weeks later, he ended up with an infection in his arm that almost cost him his life!
Another favorite story is his frog catching business around the age of 10. He would catch frogs in Peshtigo and then ride his bike to Oconto to sell them to a restaurant. One sad trip ended with the news that they had changed the needed length of the legs. Well, that night, his mom fried up a lot of frog legs!
Bruce was a lifelong military man, starting at the young age of 17 in the Army, where he served in the Korean War. Bruce then served in the Coast Guard through 1978. During that time, he was in Vietnam and received the Purple Heart. He received the Navy Commendation Medal with the Combat "V" while aboard the Point Arden, for his bravery during one conflict where he volunteered himself ashore with some of his fellow Coast guardsmen to save tons of ammunition from exploding and igniting the entire base. These men continued to fight the fire with ammo exploding all around them. He was presented a second award, the Navy Meritorious Unit Commendation Ribbon for his outstanding performance aboard another Coast Guard Cutter in Vietnam, the Point Dume. While in the Coast Guard, Bruce also served 2 isolated tours of duty in Alaska, of one year each. After retiring from the military, he went to work in the Badger Paper Mill in Peshtigo for about 15 years…
All these experiences made him who he was, a man that appreciated the simple things; good friends, family and most of all the natural surroundings of his life. Bruce loved to hunt and fish, as much as he loved just watching the birds, bears and even the squirrels in the yard! Cribbage was a lifelong pastime and weekend championships were always had right up to the end and he still beat us! Blackie as he was lovingly known by all, was a great cook, this was his assignment in the military and the family took great advantage of this at home as he did amazing things in the kitchen. His deviled eggs were legendary, we may have to start an annual cribbage/deviled egg competition!
Bruce had many friends, but none so dear to him as those from the "Silver Cliff camp", like Mark (Duty), Franny, Jim (Mush), Tom, and Dennis (Frank), Earl, Eugene, and Jack. All dear to his heart and always remembered. When camp came to an end, Bruce did not stop. He found a new activity after his open-heart surgery and that was exercise, which he did faithfully every day, rain, shine, or blizzard! He said, "no excuses, just go and exercise"! He made new friends at the "Planet" and every day he would meet up with Sid to work out and then hit Burger King for coffee and the newspaper!
Bruce is survived by his loving wife, Joane Lindberg (England), married for 62 years, his daughters: Tracy Lindberg (Marcel Fraser) of Green Bay, Lisa Koenig (Rob Koenig) of Madison and Mary Lindberg (Aaron Durfee) of Madison. He is further survived by his siblings: Doreen Rosner and Daryl (Pudge) Lindberg, as well as his beloved granddaughters: Rachell Cisneros, Daley Koenig and Olivia Koenig. Bruce was preceded in death by his daughter: Susan Lindberg, his parents: Hazel and Harold Lindberg, and his sister Claudette Wachal.
We want to give special thanks to all our dear friends and family that have extended their hearts and love to us at this time. Per Bruce's wishes, there will be no memorial service or visitation. Bruce will be laid to rest at Riverside Cemetery in Peshtigo. Thank you to Hansen-Onion-Martell Funeral Home in Marinette for your kindness and understanding.
Services
Funeral Home
Hansen-Onion-Martell Funeral Home
610 Marinette Avenue
Marinette
,
WI
US
54143
2020-08-13T